Classic Egypt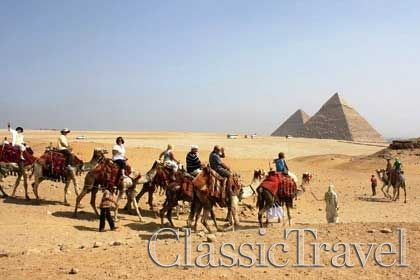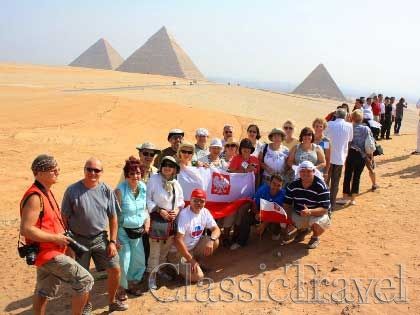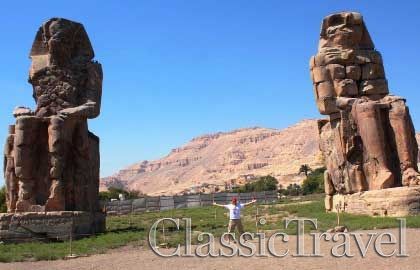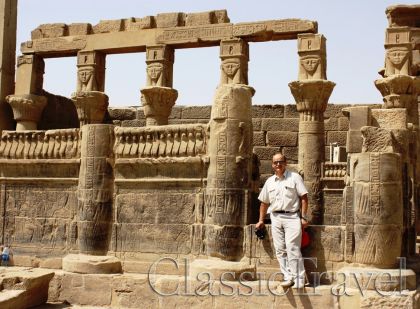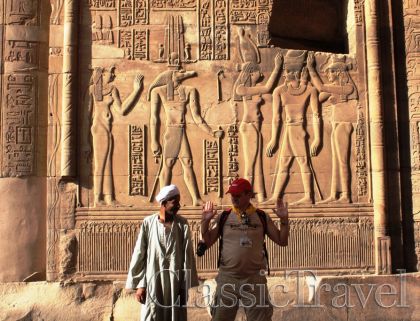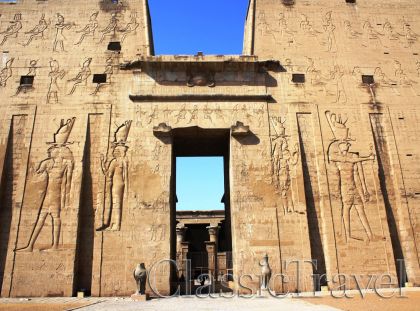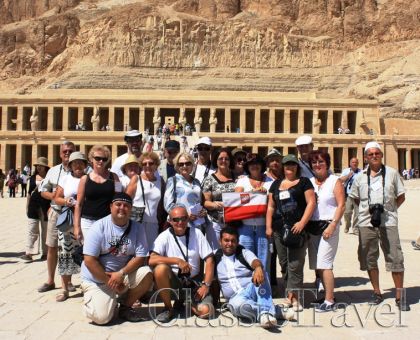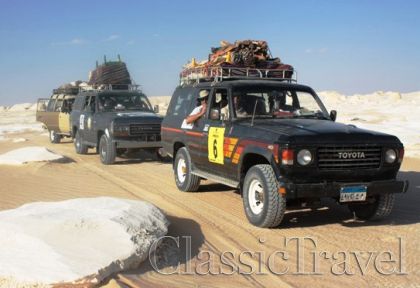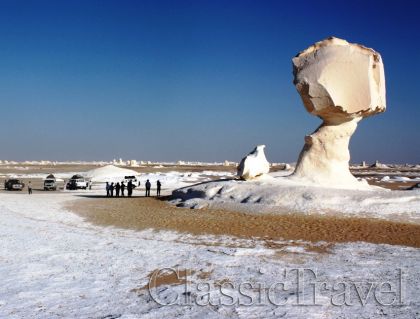 Classic Egypt
Group trip dates: From 01 October 2021 To 10 October 2021
Duration: 9 Days
Experience the beauty and history of Egypt, visiting Cairo, Memphis, Giza, and Abu Simbel before embarking on a Nile cruise ship. Discover captivating ruins and majestic natural scenery between Aswan and Luxor on a luxurious 4-day cruise. Optional trips: Western Desert Adventure in jeeps or relaxing on the beach in All-Inclusive Hurghada.
$3,190
Price with flights from JFK
Day 1 (Fri.): Departure
Meet at the JFK airport. Departure at 6:30pm with EgyptAir via non-stop flight to Cairo. Dinner and breakfast on the plane.
Day 2 (Sat.): Arrive in Egypt
Arrival to Cairo Int'l Airport. Airport pick up by our guide, transfer and check into our hotel. Welcome dinner and overnight in Cairo. (D)
Day 3 (Sun.): City Tour Cairo
After breakfast we will start a full day city tour of Cairo. First stop at Egyptian Museum with collection of 120,000 items, including the famous Gold Mask of King Tutankhamun's tomb. Then, the Alabaster Mosque of Muhammad Ali is the most popular Islamic mosque. Next we will stop at one of the oldest churches in Egypt, which history dates to the 3rd century A.D - Saint Virgin Mary's Coptic Orthodox Church also known as the Hanging Church (El Muallaqa), later Saints Sergius and Bacchus Church a traditionally believed to have been built on the spot where the Holy Family, Joseph, Mary and the infant Jesus Christ, rested at the end of their journey into Egypt. We will also stop at Ben Ezra Synagogue that originally was a Christian church that the Copts had to sell, to Abraham Ben Ezra, who came from Jerusalem during the reign of Ahmed Ibn Tulun. Return to hotel for dinner. (B, D)
Day 4 (Mon.): Memphis-Giza
Breakfast at hotel. Full-day tour visiting the Pyramids of Cheops, Chefren & Mikarinus. Drive through the Pyramids Plateau with a strong presence of history, arriving at largest and most famous -Great Sphinx of Giza with a man's head and a lion's body, representing the intellectual and physical power of Egyptian royalty. After lunch visit Memphis, ancient capital of Egypt believed to be the site visited by Abraham to address the Pharaoh of Egypt, and the Step Pyramid of Sakkara (the oldest stone structure in the world). Dinner and overnight in Cairo. (B, D)
Day 5 (Tue.): Flight: Cairo - Abu Simbel/City Tour
Early breakfast at the hotel. Transfer to Cairo airport for a flight to Abu Simbel. Upon arrival, pickup by our guide and transfer to hotel. After checking into hotel, we will visit the temple of Abu Simbel, one of the most recognizable places in Egypt. Built in 1244, B.C. Abu Simbel contains two temples carved in the mountainside. The larger of the two temples contains four colossal statues of the sitting Pharaoh Ramses II (1303-1213 B.C.) with a height of 21 meters. And the second, smaller temple built for Nefertari. At its head are two figures of the queen and four pharaohs, each with a height of 10 meters. Dinner and overnight in Abu Simbel. (B, D)
Day 6 (Wed.): Drive to Aswan
After breakfast, we will begin our drive by coach to Aswan. Transfer to the port where we will be accommodated on our ship for a four-day cruise on the Nile from Aswan to Luxor. After lunch, we will start the tour of Aswan where we will see High Dam, which was to provide Egypt with a peaceful future, as well as: Philae Island with the temple of Isis, a goddess with a thousand names, the longest venerated deity in ancient Egypt, and sail to the Island of Elephantine. Dinner and overnight on board our ship. (B, D)
Day 7 (Thu.): Nile Cruise to Kom Ombo
After breakfast, we will sail to Kom Ombo once a city of gold, where we will see the only perfectly symmetrical temple for two deities at the same time, the "Sobek and Horus" temples. After lunch, another stop in Edfu, where we will take horse-drawn carriages to the Temple of Horus - according to the oldest tradition, the god of heaven with the head of a falcon. Back to the ship for dinner and overnight. After crossing the Esna dam, we will head towards Luxor. (B, D)
Day 8 (Fri.): Nile Cruise to Luxor
After breakfast, we will start exploring the complex of temples, palaces and pyramids in Luxor. We will see the Holy Valley of the Kings with the largest concentration of pharaonic tombs from the 18th-19th centuries. They were discovered as many as 64, including the famous tombs of Tutankhamun and Ramses VI, and the wonderfully preserved tomb of Queen Nefertari. We will visit the Temples of Hatshepsut, and close to 18 m, the Colonies of Memnon - statues of the pharaoh of Amenhotep III, carved out of rock blocks of quartzite. An optional entrance to the most famous tomb in the Tutankhamen Valley. Return for lunch to the ship. Lunch and overnight on the ship. (B, D)
Day 9 (Sat.): Flight: Luxor to Cairo
Breakfast at hotel, transfer to Luxor airport to take flight to Cairo. Afternoon free for independent sightseeing. Dinner and overnight in Cairo. (B, D)
Day 10 (Sun.): Depart Egypt
After breakfast, transfer to Cairo airport for final departure. Departure wat 10:20am with Egypt Air. Arrival at 4:25pm to NYC/JFK. (B)
---
Optional Tour – All-Inclusive Hurghada
Day 1 (9) (Sat.)
After breakfast, transfer by bus to Hurghada. Arrive at our All Inclusive resort, dinner and overnight in Hurghada. (B, L, D)
Day 2 (10) (Sun.)
Enjoy the facilities and attractions of our All Inclusive resort, taking advantage of all the entertainment that Desert Rose Resort offers. Overnight in Hurghada (B, L, D)
Day 3 (11) (Mon.)
Enjoy the facilities and attractions of our All Inclusive resort, taking advantage of all the entertainment that Desert Rose Resort offers. Overnight in Hurghada (B, L, D)
Day 4 (12) (Tues.)
Enjoy the facilities and attractions of our All Inclusive resort, taking advantage of all the entertainment that Desert Rose Resort offers. Overnight in Hurghada (B, L, D)
Day 5 (13) (Wed.)
Check out after breakfast, transfer to Hurghada airport to fly home via Cairo. (B)
Cairo
Cairo is the capital of Egypt, the largest city in Africa and the 16th most populated metropolitan area in the world. Cairo is also ranked as one of the most densely populated cities in the world. Nicknamed "The City of a Thousand Minarets" for its preponderance of Islamic architecture, Cairo has long been a centre of the region's political and cultural life. Cairo was founded by the Fatimid dynasty in the 10th Century, but the land composing the present-day city was the site of national capitals whose remnants remain visible in parts of Old Cairo. Cairo is also associated with Ancient Egypt due to its proximity to the ancient cities of Memphis, Giza and Fustat which are nearby to the Great Sphinx and the pyramids of Giza.
The Nile River
The Nile is a major north-flowing river in North Africa, generally regarded as the longest river in the world. It is 6,650 km (4,130 miles) long. It runs through the nine countries of Sudan, Burundi, Rwanda, DR Congo, Tanzania, Kenya, Ethiopia, Uganda and Egypt.
Memphis
Memphis was the ancient capital of Aneb-Hetch, the first nome of Lower Egypt. Its ruins are located near the town of Helwan, south of Cairo. According to legend related by Manetho, the city was founded by the pharaoh Menes around 3000 BC. Capital of Egypt during the Old Kingdom, it remained an important city throughout ancient Mediterranean history. It occupied a strategic position at the mouth of the Nile delta, and was home to feverish activity. Its principal port, Peru-nefer, harboured a high density of workshops, factories, and warehouses that distributed food and merchandise throughout the ancient kingdom. During its golden age, Memphis thrived as a regional centre for commerce, trade, and religion.

Luxor
Luxor is a city in Upper (southern) Egypt and the capital of Luxor Governorate. The population numbers 487,896 (2010 estimate), with an area of approximately 416 square kilometres (161 sq mi). As the site of the Ancient Egyptian city of Thebes, Luxor has frequently been characterized as the "world's greatest open air museum", as the ruins of the temple complexes at Karnak and Luxor stand within the modern city. Immediately opposite, across the River Nile, lie the monuments, temples and tombs on the West Bank Necropolis, which include the Valley of the Kings and Valley of the Queens. Thousands of international tourists arrive annually to visit these monuments, contributing a large part towards the economy for the modern city.
Aswan
Aswan, formerly spelled Assuan, is a city in the south of Egypt, the capital of the Aswan Governorate.
It stands on the east bank of the Nile at the first cataract and is a busy market and tourist centre. The modern city has expanded and includes the formerly separate community on the island of Elephantine.

Kom Ombo
Kom Ombo is an agricultural town in Egypt famous for the Temple of Kom Ombo. It was originally an Egyptian city called Nubt, meaning City of Gold (not to be confused with the city north of Naqada that was also called Nubt/Ombos). It became a Greek settlement during the Greco-Roman Period. The town's location on the Nile 50 km north of Aswan (Syene) gave it some control over trade routes from Nubia to the Nile Valley, but its main rise to prominence came with the erection of the temple in the 2nd century BC.
Giza
Giza, sometimes spelt Gizah, is the third largest city in Egypt. It is located on the west bank of the Nile River, some 20 km southwest of central Cairo. Along with Shubra El-Kheima, Cairo and Helwan, the four cities form the Province of Greater Cairo metropolis. The city of Giza is the capital of the Giza Governorate, and is located near the northeast border of this governorate in coordinates. It is located right on the banks of the River Nile. The city's population was 2,681,863 in the 2006 national census, while the governorate had 6,272,571 at the same census. Its large population makes it the second largest suburb in the world, tied with Incheon, South Korea and Quezon City, Philippines, second only to Yokohama, Japan.

Price of main program with flights from JFK: $3,190
• per person for a 2 person room (min. 25 persons)
Price of optional trip- All-Inclusive Hurghada: $690
• per person for a 2 person room (min. 10 persons)
Included in price:
• Flights: Cairo-Abu Simbel-Luxor-Cairo
• All transfers by private bus with a private guide
• Most meals
• Completing the itinerary according to plan
• Entrance fees to locations mentioned in the itinerary (museums, ruins)
• Group guide provided by Classic Travel
• Accommodations in 4* hotels
Not included in price:
• Entrance Visa (~$25)
• Services not mentioned in the itinerary as well as passport costs
• Tips for local guides and drivers
• Insurance
Comments:
• Price guaranteed up to two months prior to departure.
• If you plan on taking part in this trip with a group of 10 or more friends/relatives and would need a connecting flight to reach the starting destination of the trip (NYC) there is the possibility of receiving group discounts on the connecting flight. Please contact as soon as possible if this is the case.
• In the event that there is an odd number of group participants, the person to last join the group will be required to buy a single supplement for the trip or, when possible, share a 3 person room.
• In the event that there are less than 20 participants for this trip 21 days before the trip date there will be an additional charge of maximum $100 per person.
Trip Reservation
In order to secure a reservation for this trip each participant must pay a deposit of $500 and complete and sign a trip participation form. For guided group trips the number of space is limited – reservations are accepted in the order that they are received in. Full payment is required 60 days before departure. If the departure date is already within 60 days, then full payment is required immediately. If payment is not made in this time frame, the trip price as well as a spot reserved on the trip are not guaranteed.
For the quickest turnaround, please request your reservation through our website (use the "Request Reservation" option on the trip page). Our agents will email you with the invoice, payment options, all applicable forms, and instructions on how to complete the reservation. You may also request a reservation by emailing us at classic@classic-travel.com, or by calling our office toll free 1-800-774-6996.
Trip Cancellation
Any cancellation by a client must be made in writing and be acknowledged by the company in writing (mail/email/fax). The date on which the request to cancel is received by the company or its agents will determine the cancellation fees applicable. The cancellation fees are expressed hereafter as a percentage of the total tour price, excluding insurance.
• Cancellation 90 or more days before the trip: return of deposit, less $50 for office fees.
• Cancellation 89-60 days before departure: Loss of entire deposit.
• Cancellation 59-31 days before departure: 50% of cost of services booked.
• Cancellation less than 30 days before departure: 100% of cost of services booked.
Cancellation of trip by Classic Travel
Classic Travel reserves the right to cancel a trip under any circumstances. Cancellation cannot be made under 60 days to trip departure date, except under circumstances of "Force Majeure," which our agency has no influence or control over.
When it comes to trip cancellation, the client has the following options:
• Use the trip deposit payment towards another trip as a deposit or partial payment (if the amount is larger than $500).
• Receive a full refund of the paid deposit for the canceled trip
Classic Travel is not responsible for any costs incurred to the clients in preparing for the trip.
Required Documentation
Trip participants must be in possession of a valid passport, any applicable visas, and their insurance policy. Passport must be valid 6 months past the return date. It is highly recommended that participants have at least three photocopies of these documents. The trip participant accepts full responsibility for obtaining all such documents and is responsible for any adverse consequences resulting from missing or defective documentation. At the time of booking Classic Travel will advise on what documents are required for your trip.
Travel Documents Issued by Classic Travel
No later than two weeks prior to departure, all trip participants will receive via mail and/or email a packet that contains flight tickets (if purchased through Classic Travel), a detailed trip itinerary, additional information & brochures, baggage tags, and a list of suggested items to bring.
For the complete terms and conditions, click here.
Travel Insurance
Insurance is not included in the cost of this trip. Medical insurance is mandatory for all trips and it is up to the trip participant to choose an insurance package that fits their needs. Prior to the commencement of the trip, Classic Travel will request all trip participants to provide a copy of their travel insurance certificate. Medical insurance should cover accident and sickness expenses and emergency evacuation.
We also highly recommend that cancellation insurance is purchased. This will allow you to recover your costs in case you must cancel the trip due to an unforeseen circumstance (sickness or death of yourself or a close family member, extreme weather conditions, terrorism, loss of employment, etc).
Travel insurance can be purchased through Classic Travel - our plans are available to all our clients regardless of nationality and residency. We offer travel medical insurance as well as more comprehensive insurance packages that cover trip cancellation, trip interruption, travel delay, baggage loss, and more. During the reservation process we will provide you with our insurance options and rates.
You may choose to purchase travel insurance with us or with any other venue, so long as you are insured!
Click here to learn more about travel insurance.
Author: Malgosia Ciszkowska (Trip Participant)

Travel date: 1-10 marzec 2019

Date posted: 12 March 2019

Author: Malgosia Ciszkowska (Trip Participant)

Travel date: March 1-10, 2019

Date posted: 12 March 2019
Request Reservation
Back to all Packages