Shrines of Poland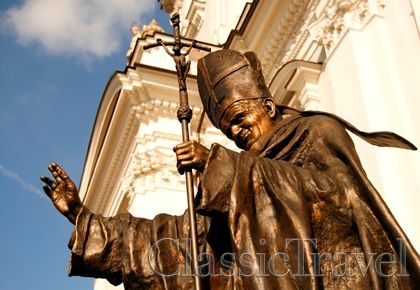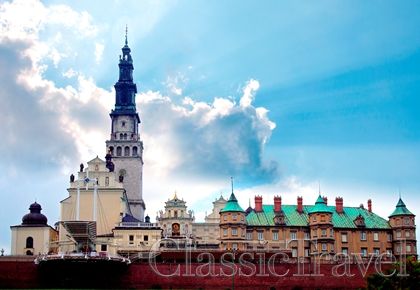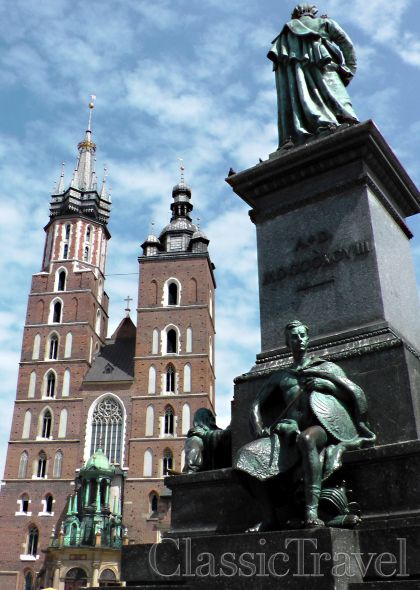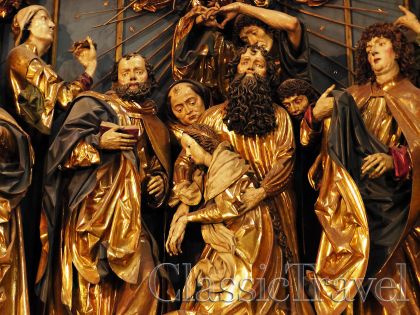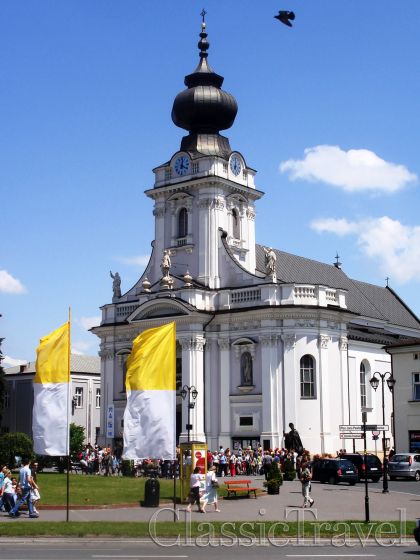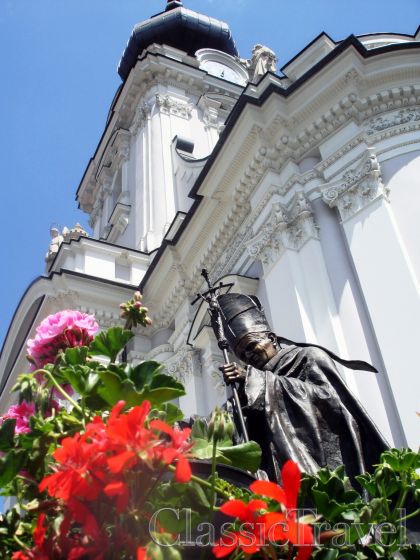 Shrines of Poland
In the Footsteps of St. John Paul II
Group trip dates: From 04 April 2020 To 14 April 2020
Duration: 11 Days
Enjoy a beautiful pilgrimage to Poland that takes you through Gdansk, Warsaw, Częstochowa, Wadowice and Kraków.

Day 1: Sat. 4/04 Flight: EWR - Warsaw
Arrive at Newark Airport at 4:30 pm. We will board LOT flight departing at 7:25pm to Warsaw. Dinner and breakfast will be served aboard the new 787 Dreamliner plane.
Day 2: Sun. 4/05 Arrival in Warsaw
Arrive in Warsaw in the morning, where we will be welcomed by our guide and transferred to the hotel. Along the way we will see some of Warsaw while driving to our hotel located in the city center. After checking-in we will have a break, followed by a visit to the Church of St. Stanislaus Kostka–the grave site of Bl. Fr. Jerzy Popieluszko, chaplain of Solidarity who was murdered by the Communist secret police in 1984. Before the Mass, we will visit the museum dedicated to Bl. Jerzy. At 6:00pm we will celebrate Holy Mass. At 7:30pm welcome dinner will be served in traditional Polish style, featuring folkloric dancing & entertainment! (D)
Day 3: Mon. 4/06 Warsaw City Tour
After breakfast we'll begin a sightseeing tour of Warsaw's Old Town; a beautiful historic area with stunning architecture. Afterwards, we will celebrate Holy Mass at the Cathedral of St. John the Baptist in the chapel of the Miraculous Crucifix. After a lunch break, we will visit the famous Warsaw Uprising Museum to learn about the history of the courageous Polish resistance during WWII that fought valiantly against the Nazi invaders. Dinner at local restaurant, followed by transfer to hotel for overnight stay. (B,D)
Day 4: Tue. 4/07 Warsaw - Niepokalanów - Żelazowa Wola – Licheń
After breakfast we'll depart to Niepokalanów, founded in 1922 by St. Maximilian Kolbe. In 1941 the Nazis took St. Kolbe to the Auschwitz concentration camp, where he offered his life in exchange for a prisoner condemned to death. At 9:30am, Mass will be celebrated in the original wooden chapel built by St. Kolbe. Afterwards we will briefly visit Zelazowa Wola, the birthplace of Frederic Chopin – the famous Polish composer and pianist. Next we continue on to the shrine of Our Lady of Licheń. The Blessed Mother appeared twice between the early and mid-19th century to two different men with important messages; the significance will be explained during the tour. We'll visit the old church and new basilica – one of the largest in Europe. In 1967, the portrait of Our Lady of Licheń received the crown of Pope Paul VI, and in 1999 Pope John Paul II blessed the new shrine of Our Lady of Sorrow. Transfer to our hotel in Licheń for dinner and overnight stay. (B,D)
Day 5: Wed. 4/08 Licheń - Częstochowa – The Black Madonna Shrine
After breakfast we will celebrate Holy Mass at the Shrine in Licheń. Next we will drive to Częstochowa to visit the Shrine of the Black Madonna – Queen of Poland. On the way we will stop by the Shrine of Our Lady of Gidle, where the miraculous Statue of Our Lady is venerated. After our short break, we will continue to Czestochowa to visit the Shrine where the Pauline Fathers will introduce you to the Jasna Góra Monastery, its history, treasures and explain the importance of the miraculous icon of the Black Madonna. In 1930 Karol Wojtyla came here for the first time with his father and prayed to the Black Madonna. He visited Jasna Góra seven times as Pope! Check in to our hotel for dinner and overnight stay. We will have an opportunity to join the faithful for daily devotion at 9pm for the Appeal to Black Madonna. (B,D)
Day 6: Thu. 4/09 Częstochowa – Auschwitz - Kraków
After breakfast we will celebrate Mass at the Jasna Góra Monastery and then we will tour Auschwitz—the German Concentration Camp where during WWII over a million people were murdered. We will arrive in Kraków in the late afternoon. Check-in to our hotel for dinner. (B,D)
Day 7: Fri. 4/10 Kraków - Kalwaria - Wadowice - Kraków EASTER FRIDAY
After breakfast we will visit Kalwaria – known as the "Polish Jerusalem;" the complex includes the church of Our Lady of Calvary, a Bernardine monastery, and Mount Calvary itself. Here we will participate in the Way of the Cross with hundreds of other pilgrims. Next we visit Wadowice, the birthplace of Karola Wojtyla. We will visit the family home of Karol Wojtyla to see his humble beginnings, which has now became a newly opened museum. Return to Kraków. (B,D)
Day 8: Sat. 4/11 Kraków EASTER SATURDAY
After breakfast we will go to the city center to participate in the various Easter Saturday festivity, which will occur on the streets and churches of the historical center of Krakow. This will be a very unique combination of religious and cultural experiences like famous "swieconki", traditional blessing of eggs and food. Free afternoon for your leisure or souvenir shopping. Our day ends with a holiday dinner at a local restaurant serving traditional Polish foods. Overnight in our hotel. (B,D)
Day 9: Sun. 4/12 Kraków - Wieliczka – Łagiewniki - Kraków EASTER SUNDAY
After an early morning breakfast we will visit the 800-year-old Wieliczka Salt Mine, the oldest in Europe. We'll walk through the underground salt stone world and explore: St. Kinga's chapel containing many salt sculptures, corridors and tunnels that will take us to the original constructions and excavation chambers; as well as the subterranean salt lakes. Next we visit Lagiewniki, the world-famous Shrine of Divine Mercy, home to the revelations of St. Faustina, a nun to whom Jesus appeared to in 1931. Here, we will celebrate Holy Mass in the original church where St. Faustina was buried. Then we will visit the Int'l Center of St. John Paul II where we will celebrate Holy Mass. In the afternoon we will check in to our centrally located hotel in Krakow close to the Old Square. Free time for leisure or shopping before Dinner and our overnight stay. (B,D)
Day 10: Mon. 4/13 Kraków City Tour
After breakfast we'll begin sightseeing tour including the Old Town, the Market Square, St. Mary's Church with its famous 15th century wooden altar, Kraków's famous mercantile "Cloth Hall", and much more. After a lunch break, we will continue our tour of Krakow. We will enter Wawel Hill, the Coronation Cathedral and the Royal Castle; the burial place of kings and famous Poles. In the afternoon we will continue sightseeing in Kraków. Since Kraków was not destroyed during WWII, it is a city of wonderful architecture and art dating back to the 10th century and is ranked as one of Europe's most beautiful cities! Farewell dinner in Poland and overnight in your hotel. (B,D)
Day 11: Tue. 4/14 Flight: Kraków - Warsaw – EWR
After breakfast, free time for leisure before transfer to John Paul II Airport in Kraków. Departure at 2:55pm on LOT flight with an arrival in EWR at 8:55pm.
Abbreviations: B - breakfast; L - lunch; D - dinner
Warsaw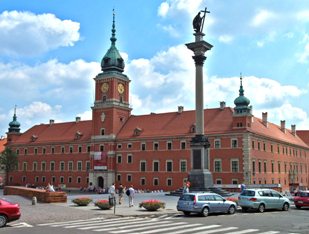 Warsaw is the capital and largest city of Poland. It is located on the Vistula River, roughly 260 kilometres (160 mi) from the Baltic Sea and 300 kilometres (190 mi) from the Carpathian Mountains. Its population in 2012 was estimated at 1,802,398 residents with a greater metropolitan area of 2,631,902 residents, making Warsaw the 6th most populous city proper in the European Union. The area of the city covers 516.9 square kilometres (199.6 sq mi), while the city's agglomeration covers 6,100.43 square kilometres (2,355.39 sq mi).
Warsaw is an Alpha- global city, a major international tourist destination and an important economic hub in Central Europe. It is also known as the "phoenix city" because it has survived many wars throughout its history. Most notably, the city had to be painstakingly rebuilt after the extensive damage it suffered from World War II, during which 90% of its buildings were destroyed. On 9 November 1940 the city was awarded Poland's highest military decoration for heroism, the Virtuti Militari, for the Siege of Warsaw (1939).
Warsaw is the source for naming entities such as Warsaw Confederation, the Warsaw Pact, the Duchy of Warsaw, the Warsaw Convention, the Treaty of Warsaw, the Warsaw Uprising, the Warsaw Ghetto, and the Warsaw Ghetto Uprising. The Warszawianka is widely considered the unofficial anthem of the city.
Częstochowa
Częstochowa is a city in south Poland on the Warta River with 240,027 inhabitants (June 2009). It has been situated in the Silesian Voivodeship (administrative division) since 1999, and was previously the capital of Częstochowa Voivodeship (1975–1998). However, Częstochowa is historically part of Lesser Poland, not of Silesia, and before 1795, it belonged to the Kraków Voivodeship.
The town is known for the famous Pauline monastery of Jasna Góra, which is the home of the Black Madonna painting (Polish: Jasnogórski Cudowny obraz Najświętszej Maryi Panny Niepokalanie Poczętej), a shrine to the Virgin Mary. Every year, millions of pilgrims from all over the world come to Częstochowa to see it. The city was became home to the Frankism religion in the late 18th and 19th Century. There is also a Lusatian culture excavation site and museum in the city and ruins of a medieval castle in Olsztyn, approximately 25 kilometres (ca. 16 mi) from the city centre.
Kraków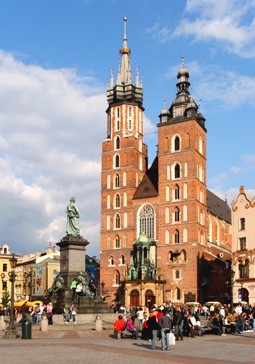 Kraków also Cracow, or Krakow, is the second largest and one of the oldest cities in Poland. Situated on the Vistula River (Polish: Wisła) in the Lesser Poland region, the city dates back to the 7th century. Kraków has traditionally been one of the leading centres of Polish academic, cultural, and artistic life and is one of Poland's most important economic hubs. It was the capital of Poland from 1038 to 1569; the Polish–Lithuanian Commonwealth from 1569 to 1596; the Grand Duchy of Kraków from 1846 to 1918; and Kraków Voivodeship from the 14th century to 1999. It is now the capital of the Lesser Poland Voivodeship.
The city has grown from a Stone Age settlement to Poland's second most important city. It began as a hamlet on Wawel Hill and was already being reported as a busy trading centre of Slavonic Europe in 965. With the establishment of new universities and cultural venues at the emergence of the Second Polish Republic and throughout the 20th century, Kraków reaffirmed its role as a major national academic and artistic centre. The city has a population of approximately 760,000 whereas about 8 million people live within a 100 km radius of its main square.
After the invasion of Poland by Nazi Germany at the start of World War II, Kraków was turned into the capital of Germany's General Government. The Jewish population of the city was moved into a walled zone known as the Kraków Ghetto, from which they were sent to extermination camps such as Auschwitz and the concentration camp at Płaszów.
In 1978, Karol Wojtyła, archbishop of Kraków, was elevated to the papacy as Pope John Paul II – the first Slavic pope ever, and the first non-Italian pope in 455 years. Also that year, UNESCO approved the first ever sites for its new World Heritage List, including the entire Old Town in inscribing Cracow's Historic Centre.

Cost $TBA
• prices listed per person in 2-person room, min. 30 pilgrims
• single supplement: +$TBA
Price includes:
• Flights: EWR- WAW / KRK - WAW - EWR
• All transfers in private deluxe bus with English speaking guide
• Most meals (11 breakfasts & 10 dinners)
• Accommodations in 3*, 4* hotels and 1 pilgrimage house
• Entrance fees to all museums/attractions as listed in itinerary
Price excludes:
• Services not mentioned in itinerary
• Insurance
• Tips and gratuities
• Optional tours
Additional comments:
• If you plan on taking part in this trip with a group of 10 or more friends/relatives and would need a connecting flight to reach the starting destination of the trip (NYC) there is the possibility of receiving group discounts on the connecting flight. Please contact as soon as possible if this is the case.
• In the event that there is an odd number of group participants, the person to last join the group will be required to buy a single
supplement for the trip or, when possible, share a 3 person room.
• In the event that there are less than 35 participants for this trip 15 days before the trip date there will be an additional charge of maximum $150 per person.
Trip Reservation
In order to secure a reservation for this trip each participant must pay a deposit of $500 and complete and sign a trip participation form. For guided group trips the number of space is limited – reservations are accepted in the order that they are received in. Full payment is required 60 days before departure. If the departure date is already within 60 days, then full payment is required immediately. If payment is not made in this time frame, the trip price as well as a spot reserved on the trip are not guaranteed.
For the quickest turnaround, please request your reservation through our website (use the "Request Reservation" option on the trip page). Our agents will email you with the invoice, payment options, all applicable forms, and instructions on how to complete the reservation. You may also request a reservation by emailing us at classic@classic-travel.com, or by calling our office toll free 1-800-774-6996.
Trip Cancellation
Any cancellation by a client must be made in writing and be acknowledged by the company in writing (mail/email/fax). The date on which the request to cancel is received by the company or its agents will determine the cancellation fees applicable. The cancellation fees are expressed hereafter as a percentage of the total tour price, excluding insurance.
• Cancellation 90 or more days before the trip: return of deposit, less $20 for office fees.
• Cancellation 89-60 days before departure: Loss of entire deposit.
• Cancellation 59-31 days before departure: 50% of cost of services booked.
• Cancellation less than 30 days before departure: 100% of cost of services booked.
Cancellation of trip by Classic Travel
Classic Travel reserves the right to cancel a trip under any circumstances. Cancellation cannot be made under 60 days to trip departure date, except under circumstances of "Force Majeure," which our agency has no influence or control over.
When it comes to trip cancellation, the client has the following options:
• Use the trip deposit payment towards another trip as a deposit or partial payment (if the amount is larger than $500).
• Receive a full refund of the paid deposit for the canceled trip
Classic Travel is not responsible for any costs incurred to the clients in preparing for the trip.
Required Documentation
Trip participants must be in possession of a valid passport, any applicable visas, and their insurance policy. Passport must be valid 6 months past the return date. It is highly recommended that participants have at least three photocopies of these documents. The trip participant accepts full responsibility for obtaining all such documents and is responsible for any adverse consequences resulting from missing or defective documentation. At the time of booking Classic Travel will advise on what documents are required for your trip.
Travel Documents Issued by Classic Travel
No later than two weeks prior to departure, all trip participants will receive via mail and/or email a packet that contains flight tickets (if purchased through Classic Travel), a detailed trip itinerary, additional information & brochures, baggage tags, and a list of suggested items to bring.
For the complete terms and conditions, click here.
Travel Insurance
Insurance is not included in the cost of this trip. Medical insurance is mandatory for all trips and it is up to the trip participant to choose an insurance package that fits their needs. Prior to the commencement of the trip, Classic Travel will request all trip participants to provide a copy of their travel insurance certificate. Medical insurance should cover accident and sickness expenses and emergency evacuation.
We also highly recommend that cancellation insurance is purchased. This will allow you to recover your costs in case you must cancel the trip due to an unforeseen circumstance (sickness or death of yourself or a close family member, extreme weather conditions, terrorism, loss of employment, etc).
Travel insurance can be purchased through Classic Travel - our plans are available to all our clients regardless of nationality and residency. We offer travel medical insurance as well as more comprehensive insurance packages that cover trip cancellation, trip interruption, travel delay, baggage loss, and more. During the reservation process we will provide you with our insurance options and rates.
You may choose to purchase travel insurance with us or with any other venue, so long as you are insured!
Click here to learn more about travel insurance.
Request Reservation
Back to all Packages